Zayn Malik and Gigi Hadid break up after two-year relationship
Zayn Malik, 25, and Gigi Hadid, 22, one of the popular celebrity couples, have broken up after their two-year realtionship. Just hours after reports surfaced that the two had ended things, Zayn took to Twitter to confirm the news.
"Gigi and I had an incredibly meaningful, loving and fun relationship and I have a huge amount of respect and adoration for Gigi as a woman and a friend. She has such an incredible soul. I'm grateful to all of our fans for respecting this difficult decision and our privacy at this time, we wish this news could have come from us first. We love you all. xZ," he shared on Twitter.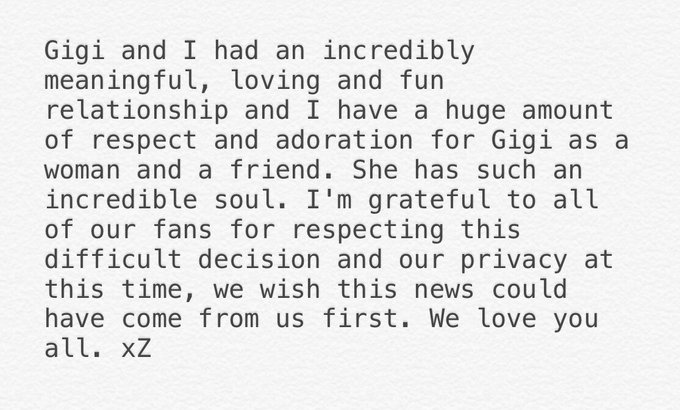 Shorty after, Gigi issued a statement of her own. "Breakup statements often seem impersonal because there is really no way to put into words what two people experience together over a few year..not only in the relationship, but in life in general," she wrote. "I'm forever grateful for the love, time, and life lessons that Z and I shared. I want nothing but the best for him and will continue to support him as a friend that I have immense respect and love for. As for the future, whatever's meant to be will alway be."